UPDATE: 7.2.21
Sad news yesterday.
"It is with very heavy hearts and tear filled eyes that we share the news that our beloved friend and bandmate, Bryan St. Pere, has passed away. We are devastated and deeply saddened by his sudden, and unexpected passing. Bryan was a dear friend, a loving father, brother, and was an incredible person and musician. We all feel extremely lucky to have shared time and space with him. Peace and love to all who knew Bryan, and those he touched. We will miss him dearly." - Jeff, Matt, and Tim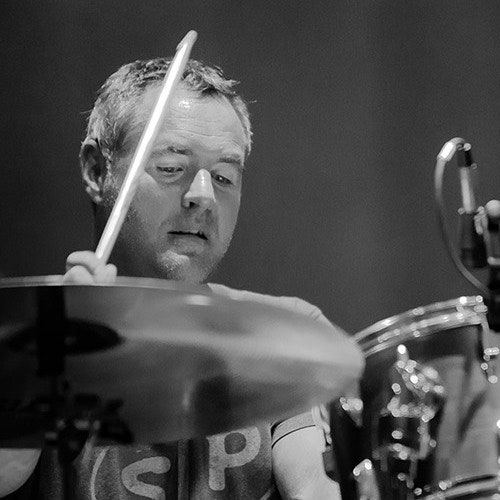 UPDATE: 6.23.20
Psst...hey you, guess what dropped today? Hum's new and long-awaited album, Inlet is finally here! Also available at Bandcamp.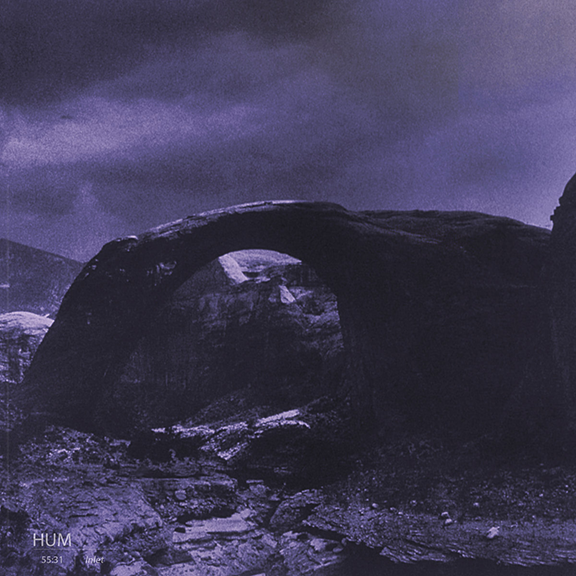 UPDATE: 6.12.15
News? News! What's this over here at humbandofficial.com? Things are getting interesting! The band has officially taken over the Facebook Hum page as well as my Twitter account. Check out the new Twitter URL at twitter.com/humbandofficial. Now get hype for a real Hum tour!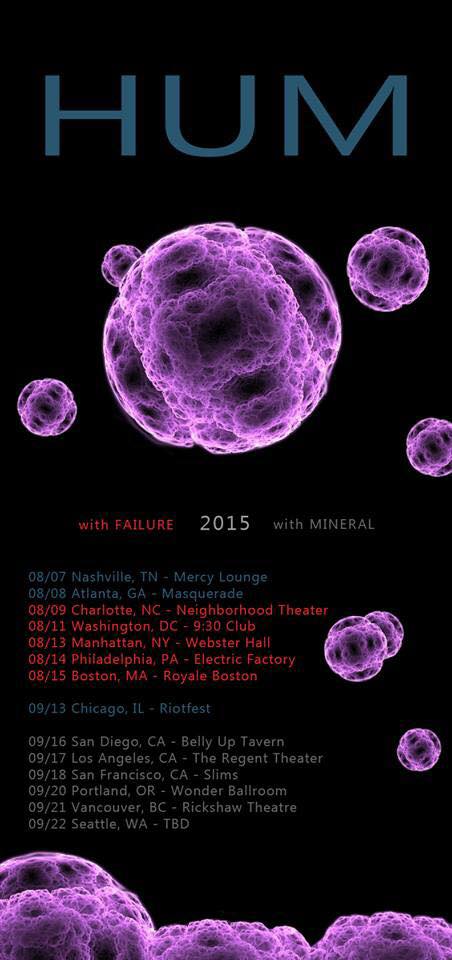 You'll have to accept my apologies if you've been trying to email me and gotten no response...an email forwarder disappeared yadda yadda yadda I haven't gotten email in months! I was starting to wonder why it was so quiet, now I've got about 500 emails to sort out.
UPDATE: 2.17.13
I've got some good news and some not so good news about the availability of You'd Prefer an Astronaut on vinyl.
Let's get the bad news out of the way and address some rumors! I spoke with Matt Talbott earlier about the vinyl reissued by RCA/Sony (available at shopradiocast.com). He told me the band was not informed about or involved in the release, and they will not be making any money from it. This announcement is not a call for a boycott of the reissued vinyl, but they are displeased with the situation and want the fans to know what they're getting.
On the plus side, Matt is breaking out his stash of original release vinyl and they will soon be available at earthanalogrecords.com, paired with a new poster from Jay Ryan! He even found some green ones!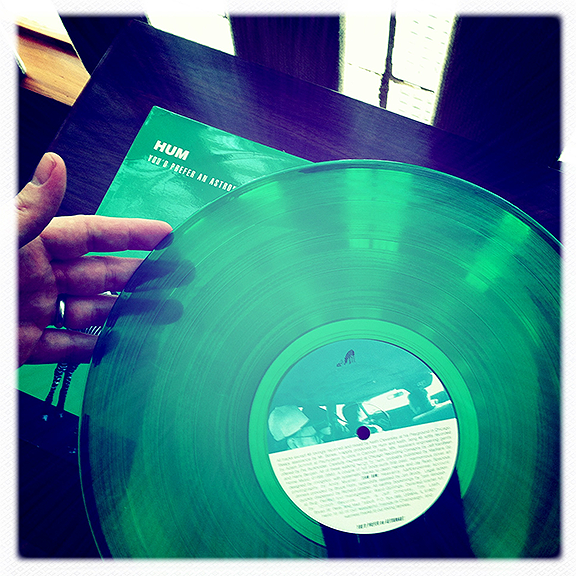 More details on both fronts coming soon.
---
UPDATE: 9.17.12
Oh, hey there. Guess what? Sleigh Bells cancel Pygmalion appearance, HUM to replace them! That's right, Hum is to perform at Canopy Club (Urbana, IL) on Thursday September 27, 2012. Tickets went on sale 15 minutes ago. See you there!
---
UPDATE: 3.9.12
Matt Talbott's band Centaur is playing tonight at Cowboy Monkey in Champaign! With them is Dibiase (they have tasty riffs) and Redgrave.
If you missed out on the posters from Hum's Fall 2011 mini-tour, have no fear...the posters are available online at the new Earth Analog Records web site! Supplies are surely limited, so get them while you still can. (Earth Analog is Matt's studio, which was previously known as Great Western Record Recorders)
---
UPDATE: 8.28.11
Alrighty folks, here's an updated list of all the 2011 Hum Reunion shows:
9/9/2011 @ Highdive in Champaign, IL - Buy Tickets. I was originally told this show was taking place at Cowboy Monkey, but it appears as though it's been moved to Highdive. Either that, or the tickets are being purchased through Highdive. I'm not entirely sure. These bars are only a block away from each other, so it shouldn't be a big deal if you initially show up at the wrong place.
9/10/2011 @ A.V. Fest in Chicago, IL - This appears to be a free show. Donations are accepted, and a portion of the proceeds benefit Rock For Kids.
11/4/2011 @ Record Bar in Kansas City, MO - Buy Tickets
11/5/2011 or 11/6/2011 @ Fun Fun Fun Fest in Austin, TX - Buy Tickets. Hum's date is still listed as TBA, but I'm guessing it won't be on the 4th since they're in Kansas City that night.
Also, don't forget to preorder your copy of SONGS OF FAREWELL AND DEPARTURE: A TRIBUTE TO HUM! Release is set for September 6th. Check out the new promo video.
---
UPDATE: 7.28.11
Well well well, some more information about the reunion shows is already here! It looks like Hum is playing A.V. Fest in Chicago. The schedule will be revealed next week. Announcement: Your weekly A.V. Fest update is here. Now with 100% more HUM.
---
UPDATE: 7.27.11
Matt Talbott tells me there's some Hum shows coming this fall! I don't have all the details yet, but here's what I know: there will be one on September 10th, and it won't be in Champaign. A show in Champaign is possibly going to be planned for September 9th, and they are playing Fun Fun Fun Fest in Austin, TX in November.
I'll be updating the site (and it's Twitter / YouTube channel) as more info becomes available. Are you excited? I'm excited!
---
UPDATE: 5.20.11
It looks like the Hum tribute is almost ready! Details below:
SONGS OF FARWELL AND DEPARTURE: A Tribute To HUM Announces Complete Line-Up. Coming Summer 2011.
Pop Up Records and the entire Hum Tribute Team are extremely excited to announce the complete line-up for SONGS OF FAREWELL AND DEPARTURE: A TRIBUTE TO HUM. The announcement comes several months after strategically leaking out a handful of bands at a time, but alas the full line-up has gloriously emerged. We have assembled a diverse cast of bands to pay tribute to one of the 90's most beloved space rockers HUM, and fans have good reason to be excited. The release will celebrate the Champaign, IL collective's all too short career with astounding new takes of classic tracks from some of today's brightest new and up-and-coming bands. SONGS OF FAREWELL AND DEPARTURE offers a brilliant look at the near decade long reign of HUM through the eyes of the musicians they influenced including Funeral For A Friend, Junius, The Felix Culpa, City of Ships, Solar Powered Sun Destroyer with J. Robbins (Jawbox/Burning Airlines), Stomacher, Kellii Scott (of Failure) & Eric Gorfain (of The Section Quartet), and much more. The record is currently being mastered, with a summer release date expected to be announced shortly. Check out the line-up below and stay tuned for one of the most overdue tribute albums of the past decade.
Tracklisting
1 - Arctic Sleep - The Scientists
2 - (Damn) This Desert Air - The Pod
3 - Solar Powered Sun Destroyer - Stars (feat. J Robbins)
4 - Bearhead - Ms. Lazarus
5 - Anakin - I'd Like Your Hair Long
6 - Junius - Firehead
7 - Constants - If You Are To Bloom
8 - City of Ships - I Hate It Too
9 - Actors & Actresses - Aphids
10 - Digicide - Comin' Home
11 - The Esoteric - Iron Clad Lou
12 - TENT (Kellii Scott & Eric Gorfain) - Little Dipper
13 - Stomacher - Why I Like Robins
14 - The Felix Culpa - Puppets
15 - Funeral For A Friend - Green to Me
DIGITAL ONLY BONUS TRACK:
Alpha Stasis - Scraper
SONGS OF FAREWELL AND DEPARTURE: A TRIBUTE TO HUM is brought to you by a team of likeminded individuals including: Pop Up Records, ExplodingInSound.com, EscapingTheOrdinary.net, DecoyMusic.com, Chancellor Design, and HOUSEWITHOUTWALLS Design. Having all been influenced by HUM themselves, the team is dedicated to the project and all of the bands involved. Pop Up Records are no strangers to paying homage to the icons of the 90's, as Pop Up released The Nurse Who Loved Me: A Tribute to Failure in late 2008.
For more news and info...
www.myspace.com/humtribute
www.facebook.com/humtribute
www.twitter.com/humtribute
Brought to you by the Hum Tribute Team:
*Pop Up Records
*Decoy Music
*Exploding In Sound
*Escaping The Ordinary
*Housewithoutwalls Design
*Chancellor Design
---
UPDATE: 6.10.10
I hope everyone had a blast at the shows! I was there in spirit. My inbox is overflowing, but I'll try to post some updates.
Have you checked out the Hum Tribute Album on Facebook?
I always love hearing the crowd sing along to Stars. Check out some video footage from the Chicago show here (might have to scroll down a bit).
Hey look, the forum is back up!
Due to illness and some other financial woes, I've decided to sell some of my Hum collection. This makes my soul hurt. I strongly dislike Ebay, so if you see something you want, just email me an offer I can't refuse. Everything is in excellent condition. Here's what's up for grabs:
Downward is Heavenward - Blue vinyl LP + Poster
Stars - Green vinyl EP (x2)
Sundress - Vinyl EP
Hello Kitty - Vinyl EP
The Pod - Vinyl EP
Comin' Home - Vinyl EP
Fillet Show - Cassette
Hum Furnace Fest 2003 signed Jay Ryan print, 246 of 250
Green To Me EP - CD
The Pod EP - CD
I'd Like Your Hair Long promo CD
ALL ITEMS HAVE BEEN SOLD, PLEASE STOP EMAILING ME (MONTHS LATER) LOL!
---
UPDATE: 3.21.10
More Hum shows! HUM @ The Old Rock House, St. Louis, May 22, 2010. HUM @ the Champaign 150th Anniversary Music Festival, July 10, 2010. The Champaign show is outdoors/free/all ages - streetfest for City of Champaign/Champaign Park District 150 year celebration. 3 stages w/Hum closing around 9:00-10:30pm. I'm also told the Chicago show is free - more info.
---
UPDATE: 2.4.10
There's another Hum reunion show coming up! May 31 @ Millennium Park (Pritzker Pavillion) in Chicago. More info coming as I get it! I suggest you subscribe to the Mission Control Twitter since it is sorta acting as a mailing list for now.
---
UPDATE: 10.25.09
I'm giving the site a bit of a facelift, so some things may be out of whack for a couple more weeks. I've barely touched the code for this site since I originally built it back in what, 1999, 2000? May as well have been the paleolithic era. I think I used AltaVista as a search engine. An upgrade was long overdue. Hang in there.
---
UPDATE: 5.04.08
I've uploaded some videos to YouTube, check it out. The music videos are available in HD (well, YouTube's version of HD, which is almost VHS quality!) and are a bit better quality overall than the uploads I posted forever ago. Also, footage from the reunion show on New Year's Eve is posted here.
---
UPDATE: 10.02.08
REUNION SHOW REUNION SHOW REUNION SHOW!!! Haha no shit, I'm serious. Hum at the Double Door, Chicago, 12-31-2008. Change your undies, then go buy your tickets on Oct 4th.
---
UPDATE: 11.13.07
Just taking a moment to draw attention to this site in case you haven't already seen it. Lots of live Hum shows for download there if you search the live music archive. Lots of other neat live stuff too! Enjoy!
---
UPDATE: 9.16.07
I've been getting lots of emails asking for updates, but I've honestly had no news to report. HOWEVER! I received an email from someone claiming to have heard Hum in a Cadillac commercial recently. I checked out Cadillac's web site - and this is what I found. Watch the one called "Turn You On". Enjoy!
---
UPDATE: 10.4.05
MORE TICKETS?
From Ward:
If you missed the 9/10 postmark deadline and have been in serious despair... THE FLOODGATES ARE NOW OPEN AGAIN! Yup, yup :) I will send comp tix to anyone who sends me a SASE by Saturday October 8th (after that I don't know if they can be returned to you in time for the concert). To everyone asking if we received your SASE... if you sent it, we got it (unless the US Postal Service has failed you).
For those of you from out-of-state who already mailed in a SASE requesting complimentary tickets to see Hum and/or Shooter Jennings... I will be stuffing ALL of those envelopes with tickets TONIGHT and mailing them first thing TOMORROW! This includes anyone and everyone who missed the 9/10 postmark deadline. Again, if you sent it, we got it, and we're sending tickets out to you. So, look for your tickets in Monday or Tuesday's mail.
REMEMBER, THIS IS A 21 AND OVER EVENT!
---
UPDATE: 9.7.05
UPDATED TICKET INFO!
UPDATE!!! Response has been somewhat overwhelming. Not that we didn't expect it... but the letters continue to flow in with no sign of stopping (or even dwindling). Therefore, PLEASE NOTE... your SASE (Self-Adressed Stamped Envelope) for HUM ticket(s) MUST BE POSTMARKED BY 9/10/05 (to: Ward c/o 6 Taylor Street Champaign IL 61820). No exceptions. After that, Highdive needs to impose a (hopefully temporary) HIATUS on the distribution of free tickets to any and all out-of-towners until we regroup and reassess the current ticket situation. New news will then be posted at www.thehighdive.com as well as sent to the burgeoning HD email list.
Thanks for your support AND your patience AND for all of the wonderful notes that have been enclosed! Ward
PS. top 5 vote-getters in my silly poll thus far are...
Isle of the Cheetah
Suicide Machine
Iron Clad Lou
The Scientists
The Pod
and suprising dark-horse candidates thus far are...
Boy with Stick
Puppets
---
UPDATE: 8.24.05
The moment you have all been waiting for...TICKET INFO! Here's the deal...anyone who lives more than 60 miles from Champaign, IL can send a SASE (self-addressed stamped envelope, if you've been living under a rock) to the wondermous Ward and he will send you FREE TICKETS once they've been printed (around mid-September). And just for fun, include the 3 Hum songs you'd MOST like to hear them play. Here's the address:
Ward
6 Taylor Street
Champaign, IL 61820
Please take note that this is a 21+ show! The Highdive generally will let you in if you are underage and accompanied by a parent/guardian but I'm not sure if that rule pertains to this show or not. Perhaps Ward could tell you - info@thehighdive.com
---
UPDATE: 8.12.05
Got some more news on the Hum show! Here it is, from the mouth of the wondermous Ward Gollings who is in charge of booking at the Highdive.
here's the deal folks... (drumroll) Hum, yes Hum will once again reunite and play a show on Saturday October 15th, 2005. it will be outside, behind Highdive in a 3000 capacity tent with about a half dozen other bands. Fucking fantastic right? yes, but there's one small catch you should be aware of. although it's a free show, Budweiser is sponsoring the entire event and is thus giving all of the tickets away via various promotions. THERE WILL NOT BE ANY TICKETS AVAILABLE FOR PURCHASE. so how do you get a ticket? that i don't know yet and thus the reason i was not announcing it publicly. Bud or Miller did the same thing at Canopy Club a while back with Puddle of Mudd i believe. so don't get your collective britches in too big of a bundle just yet. oh and i'm quite sure you hafta be 21. more details as i get them. thanks, Ward
---
UPDATE: 8.11.05
What is this? ANOTHER HUM REUNION SHOW? Why yes, it is!
10-15-2005 @ The Highdive (I think, too excited to doublecheck at the moment!), Champaign, IL
Come one, come all! I'll post more info as it comes.
---
UPDATE: 3.9.05
Ok! I've got some more downloadable goodies for you. I'm sorry to report I still don't have enough bandwidth to host the Furnace Fest video, but I do have room for the Hum on the Howard Stern Show video, the Comin' Home demo, and Invisible Sun! Many thanks to Brent for sending me the DVD!
In other news...there's been rumors about Hum recording "Inklings" later this year. I can happily confirm this. Its still a maybe, so don't get too excited...but it is a possibility.
Just one more bit to report...the Neverending White Lights compilation project (which features a brand spankin new Centaur song) will be coming out sometime this fall. Preorder forms will be on their web site when its ready, so keep yr eyes peeled. Its going to be really cool!
---
UPDATE: 12.3.04
At long last...guess what I got! Can you guess? Can you??? HUM @ FURNACE FEST VIDEO!
The only problem is...its a huge file and I can't host it on the web site at the moment. It will be here eventually once I get the funds to upgrade to the next biggest hosting plan, but for now, I am seeding it on BitTorrent.
So, if you want it, go get the Azureus BitTorrent client. You may also have to register at this web site to be able to connect to the tracker. I'm sorry for that, I tried to run my own tracker but I can't seed and track at the same time, apparently.
If you've never used BitTorrent before, fear not. Its just another P2P application, but it works a bit differently. You don't have to connect to a P2P network (like WinMX, Soulseek, KaZaa, etc), all you do is connect to the tracker and the peers. Just download the torrent file and let Azureus do the rest.
Last, but not least...please leave your BitTorrent app open after you've downloaded it so you can help others get the video. I've got a pretty decent upload speed, but I do have work to do, and I can't just sit here and seed this thing all by myself.
Without further bullshit...here's the torrent file: Hum@Furnace Fest ENJOY!
---
UPDATE: 9.3.04
Mission Control is back after a short hibernation period. I've moved to a very nice new server, so there will be no more random down time! Never, ever get a hosting account with Fast-Host.com, they blow monkey butt.
First things first...why the FUCK does nobody seem to have a decent quality bootleg of the reunion show? I was on stage with Hum, there were at least a dozen people with camcorders up there with me. God only knows how many people had cameras and audio recording devices. And yet...I've only received one audio recording, and it isn't very good. (Not complaining to the person who sent it to me, its still better than nothing!) One last time...if you or anyone you know has a video or audio copy of the reunion show, good or bad...PLEASE CONTACT ME!!!!!!!! I'll sell you my soul if you want it! I'll BUY it if I have to, just freaking contact me!
I was planning on revamping this bad boy (hence that ugly site maintenance page you've been seeing for a couple weeks), but I've become a little busy with other things and I have to put it off. I've got some updates for you though. I re-encoded all the videos. A lot of folks were complaining about the codecs, so everything is in DivX now, which is a very sweet and accessible codec. I also shrank them down a bit. This is so 56k-ers don't have to spend a week downloading one video. Don't panic, they're still good quality. I also remastered the audio tracks a bit so you don't have to blast the volume to hear the live stuff.
I've had this for a while but apparently I forgot to post it here...the Comin' Home music video. I finally got the VHS of Hum's performance on the Howard Stern show, and I'll post it as soon as I can find a computer with TV-in capabilities. Check the downloads section, I might have some other goodies for you.
In other site news...the Centaur site has been revamped and there is an unreleased track just waiting for you to go download it. The Lovecup site has been updated, and you can again download all kinds of Lovecuppy goodness. I also designed Matt Talbott's Great Western Record Recorders new site, so be sure to check that out if yr in need of a fine recording studio.
And, I hate to say it, but people are constantly asking me about this and I feel it should be clarified...HUM IS NOT GETTING BACK TOGETHER. The Furnace Fest reunion show was a wonderful freak occurrence. But please, don't get yr hopes up. Its probably not going to happen again in the near future, if ever again. It sucks, but that's the truth.
Anyway...keep yr eyes peeled for more updates soon. I have not forgotten about this site, and now that I have more space and bandwidth to work with...I'm going to spoil you guys rotten. :) Stay tuned!
---
UPDATE: 2.9.04
Sorry about the downtime and such...most of the downloads are working again, so go check em out! I also added the Green To Me music video. Many thanks to Rick for uploading!
---
UPDATE: 12.13.03
FINALLY! I got some Hum @ Furnace Fest MP3s (minus the encore) for yr listening enjoyment! The sound quality is pretty poor, but its better than nothing. If any of you viewers recorded the reunion show, audio or video, and can make me a copy, please contact me!!! This is the only recording of the show I've received, I know there has to be better copies out there. I can make it worth yr while if you'd just contact me!
Also thought I'd point out you can buy Hum's reunion show t-shirts at Parasol. I'll post scans of the t-shirt designs soon, but for now...there is The Robot and The Microscope, they come in L and XL. $15.00, get em while they last!
In other news...I'll be updating the site some more soon. Notice the Multimedia FTP section has been removed and replaced with a Down With eBay section. I'm scrapping the FTP idea for good, as there's plenty of Hum downloads on the net, but I'll be compiling a list of links to some new sites as well that have lots of new goodies for you.
In case yr wondering what the eBay section is...well, I'm quite tired of seeing content from this web site for sale on eBay, and I'm also tired of people selling fake Hum merch in general. This new section will tell you who's selling fake merch, stolen content and the like. It will also tell you who's not! I'll also post links to good Hum related auctions and maybe even add a classified section so people can post their Hum merch for sale. Why am I doing this? I'm doing this because fake merch doesn't promote the band, it only puts money in the fake merch maker's pocket. I get especially pissy when content from my free web site is being sold somewhere. Can you believe people actually hork my graphics and print them on shirts and buttons and sell them? They also burn these free MP3s to CDRs and sell them! And the kicker is these fake merchants piss on my leg and tell me its raining when I confront them about it. Listen here, asshats, I spend hundreds of dollars and countless hours maintaining this site every year, and I do it for free. I do it because I want this to be the best damn Hum site to ever grace the net. The only thing I ask for in return is that you people don't sell my shit. I don't think I'm asking for too much. If you want to make fake Hum merch, knock yrself out, but leave my web site out of it.
---
UPDATE: 9.12.03
Even more goodies! I posted my photos in the photos section, I'll be adding everyone else's as the day progresses. Also got another video for ya ala Shawn Numbers...Stars! Enjoy!
---
UPDATE: 9.3.03
Got some more goodies posted for ya. I scanned the Furnace Fest Hum poster and made desktop wallpaper out of it, go get it in the downloads section! Also new to the downloads...yr not going to believe this. A Downward Is Heavenward demo tape has finally found its way to the net ala Shawn Numbers, enjoy!
---
UPDATE: 8.23.03
Furnace Fest ROCKED! HUM ROCKED! Photos, news, and possibly audio/video coming soon.
Who loves ya? That's right, I do, but that's not the point...so does Shawn. And he's uploaded another Hum video for yr enjoyment. Here's Iron Clad Lou!
---
UPDATE: 8.11.03
The Furnace Fest schedule has now been released, check it out here! Hum is scheduled to play from midnight to 1:15 a.m.
Also, I added some new wallpapers to the downloads section. I'll also be posting the Iron Clad Lou video soon, as well as some other videos.
---
UPDATE: 8.10.03
HOLY SHIT! Surprise! Hum played a show last night 8.09.03 at the Cowboy Monkey in Champaign. I'm so sorry I wasn't around to post the info here, it was a last minute thing. The band decided around 4 PM to do it, and that's when I left to go visit some family in Indiana. If I'd only stuck around another half hour...I got home around 10:30 and was told about it, and of course rushed over to the Monkey. The show started at 10 so I missed most of it. They sounded awesome though, I guarantee they won't disappoint in Birmimgham! I can't even begin to tell you how sweet it was to see those 4 guys doing their thing again. Wow! If anyone took any photos or recorded the show, please contact me!
Here's the setlist: Little Dipper, The Pod, Stars, Inklings, Green To Me, Comin' Home, Iron Clad Lou, I Hate It Too.
Also, please note if you are going to Birmingham and are not buying the 3 day pass...ticket prices for individual days have changed. Friday and Sunday are now $20 a day, and Saturday is $30. I also thought I should point out that you can book yr motel rooms online here.
---
UPDATE: 8-1-03
Just to clarify: Hum is playing on Saturday, August 16th, and they are closing the show. I'm not sure what time closing bands start though, I'll let you know when I know.
More downloads for you all! I've had these videos for a while, but wasn't sure how to link to them...but I figured it out now, and here you have...Hum's performance of I'd Like Your Hair Long on 120 Minutes, Hum on Beavis and Butthead, and last but not least...The Pod music video! Thanks to Shawn for these!
---
UPDATE: 7-28-03
KLSU in Baton Rouge, Louisiana, 91.1 will be doing a speciality show on Hum 8.02.03 from 2-4 p.m., and they may be broadcasting the show on their web site. They will be playing b-sides, all 4 albums, and songs by National Skyline (Jeff Dimpsey, Jeff Garber, Jim Minor), Glifted (Tim Lash, TJ Harrison), and Centaur (Matt Talbott, Derek Niedringhaus, Jim Kelly). Rock!

ATTENTION!
Hum is getting back together for a reunion show! Furnace Fest 2003 in Birmingham, Alabama. Its a 3 day event starting August 15th, tickets and a list of bands are available at their web site. Hum's show is (probably) on Saturday the 16th at 8 PM, if anyone can supply me with more info, it would be greatly appreciated. Tickets are $60 if purchased in advance, $70 at the gates, or individual tickets for each day are $26. There is a motel nearby offering discounts to showgoers, so get yr ass to Birmingham or be square. If yr going to go, stop by the forum and let everyone know, its going to be quite a party. Yr humble webmaster will surely be going, say hello!
In other news, Andy Switzky, Hum's old guitar player, has posted Hum's oldest demo tape on his web site. The demo is called "Kissing Me Is Like Kissing An Angel" and is now available to you via mp3 format here. I think it was an omen.
I've also added to the download madness. I'm kind of freaking out actually, I thought I was never going to have to update this web site again, and here I am typing away and uploading like a madwoman. I'm so glad the masses are interested in Hum once again. Anyway...I've uploaded some Hum goodies for you all. There's still wallpaper and buddy icons and all that good stuff in the downloads section, but I just added the Hello Kitty 7 Inch, the Sundress 7 Inch, the Puppets/Aphids Promo EP, and the Stars UK single to the mix. Enjoy! :)
Also, don't forget the old Flashpoints web site is back up and at em too, minus the downloads. Sorry, I don't have room for them at the moment.
---
UPDATE: 5.2.02
Added a desktop background to the Downloads section, thanks to Jeremy for designing!
---
UPDATE: 4.24.02
Added some goodies to the Albums section, updated some stuff here and there as well. More gems from Electrician keep appearing in my inbox, thanks a million!
---
UPDATE: 4.14.02
The FTP is still on hold, sorry...and sorry I've neglected the site for a while. I got some new downloads, photos, and a new skin up, so I'm not totally useless :)
---
UPDATE: 2.23.02
Alright, finally got some spare time to clean up Mission Control. The Centaur site is up with a whole new dimension. I'm also updating a ton of stuff here, so be sure to look around! The FTP is still on hold, but trust me when I say the wait will be worth it.
---
UPDATE: 1.28.02
As you may have noticed, Mission Control is kinda on hold right now. I've been redesigning Trilobyte's Centaur site, so be looking forward to that very soon.
---
UPDATE: 1.16.02
Well, Mission Control it is, and with a purdy new face. The FTP is still not quite done yet, but be waiting for yr invitation. Marijun still has other pending projects as well, 2 new skins, some desktop themes, and possibly some animations. Misc updates abound as well...
---
UPDATE: 1.6.02
As you may have noticed, the site is looking a little different. I will be giving the site a face lift for the next couple days, so expect to see some bugs. I'm also working on the last of the Netscape issues and some other misc things. Oh, well I guess the biggest change is going to be the name of the site. "Marijun's Love For HUM" isn't the most comfortable name on the planet, I admit. I was listening to Little Dipper a while back, "If we ignore the signals that mission control will send..." was always one of my favorite lines from that song, and I thought hey, that wouldn't be a bad name for the site. So there you have it, Mission Control.
---
UPDATE: 1.3.02
FTP Registrants, anyone? The FTP will be up before the end of the month, pretty sure of that. And, for security reasons, I decided to not allow anonymous logins, so you must register to gain access.
---
UPDATE: 12.31.01
One year ago tonite, Hum played their last show. Seems like longer than that, doesn't it? Time is dragging... Anyway, I'm back from the holidays, and better than ever! Santa was good to me, I got a server for the web sites and Multimedia FTP, now all I need is a better connection. I moved the site back to the Netfirms server, sorry you have to deal with the ads again, but this host is a bit more reliable. Misc updates abound, and be looking for the FTP soon...
---
UPDATE: 12.20.01
Added some videos to the downloads section, and some more MP3s. Misc updates abound as well, happy holidays!
---
UPDATE: 12.17.01
The www.h-u-m.net addy is functional again, and should be good for a while, so update yr bookmarks! I also added the Hello Kitty single to the downloads section. Misc updates abound as well.
---
UPDATE: 12.15.01
I'm moving the site to Crosswinds today, so no more @%$!&# ads or popups! The www.h-u-m.net address won't be working for a bit, so til then use http://hum-web.da.ru/
---
Are you a generous humanitarian? Long-time fan of the site? Consider making a donation to Mission Control.
---